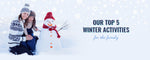 We know how hard it can be for our kids (and us!) to be cooped up inside all winter...so we've come up with some fun and FREE winter activities for your little ones! 
1. Go tobogganing 
This is a classic for a reason! This is a great way to get the whole family working together to have the best ride possible-and trust us, it's a learning curve. It's basically a free roller coaster ride! Plus, everyone will be so tired out at the end of the day that they'll sleep like rocks. 
2. Build a snowman
Another classic activity. Building a snowman allows kids imagination to blossom. They're carving a representation of their very own ideas! Snowman building is a fun activity that allows planning, creating and problem solving.
3. Build a fort
If there's enough snow on the ground-try building a snow fort with your family! If not, transform your living room into a pillow fort. This is one of those activities that is just as fun as adults as it is for kids.
4. Making homemade hot chocolate
Warming up from being outside all day is essential, and nothing is more comforting than a warm cup of hot chocolate. What better than to winding down around the fireplace with a cup of hot chocolate after a fun-filled day outside!
5. Bake cookies
Another fun and warming activity on those extra cold winter days where going outside isn't an option. This is a great way to try out different recipes with friends or just have a giant cookie decorating party! This is a super fun (and delicious!) way to spend the day.