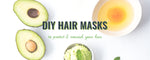 With autumn finally in full swing, we can be sure of a few things. The air will continue to get colder and drier, your bank account will take a bit of a hit now that Starbucks' holiday drinks are back (hello, Caramel Brulée Latte!) and your hair will most definitely start to feel damaged. We are here to offer you some help with the last point! Check out these four awesome DIY hair masks that can help protect and nourish your hair to keep it glossy and beautiful for all of the upcoming holiday gatherings in your schedule. 
1. Banana and Almond Oil Hair Mask
Get your hair ready for a nourishing treat with this mask. The banana helps to soften your dry and damaged ends, while the almond oil helps keep moisture locked in. 
Ingredients
1 Medium banana
1 Tsp almond oil 
Instructions
Mash up your medium banana
Mix banana together with almond oil
Massage into damp hair, roots to tips
Let sit for 30 minutes
Rinse
2. Cinnamon, Honey and Olive Oil Hair Mask
Lock in moisture and keep your hair glossy with these three ingredients hidden in your cupboard!
Ingredients
1 Tsp of cinnamon
1/2 Cup of olive oil
1 Tsp honey
Instructions
Mix ingredients together until the blend is a dark brown
Warm treatment - either for a few seconds in the microwave or by placing the bowl with the blend into a larger bowl of warm water
Brush out damp hair and gently massage blend into hair from scalp to ends
Tie up hair into a towel and leave mask for about an hour
Gently rinse hair and massage out mask
3. Pumpkin and Honey Hair Mask
 Pumpkin is full of vital vitamins and that promote healthy hair. Add in a few drops of honey and your hair will be hydrated, strengthened, and protected.
Ingredients
1 Cup of pumpkin puree
1-2 Tsps of Honey 
Instructions
Blend pumpkin puree and honey together
Gently massage mask onto damp hair, working from the scalp to the ends
Wrap hair in saran wrap or cover with a shower cap
Let sit for 15 minutes
Rinse
4. Avocado and Egg Yolk Hair Mask
Let this amazing mask strengthen and rejuvenate your locks. Oh, how they will shine!
Ingredients
1/2 Of an avocado
2 Egg yolks
Instructions
Blend avocado and yolks together in a small bowl.
Apply mixture onto damp or wet hair, working from the scalp to the tips. Let sit for 15 minutes.
Gently rinse with warm water.
Let us know what you think! Happy pampering!