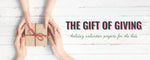 The holiday season is as much of a time of giving as it is receiving. As the winter holidays approach, get together with your kids and brainstorm ways to give back to your community through small volunteer projects! Volunteering teaches children the valuable lesson of appreciating what they have, and making sure to extend kindness and good to others who may not have as many resources. We have compiled a great list to get you and your family started on sharing the joy this season!
1. Help Bake Cookies or Food to be Donated 
Whether you buy the famous holiday Pillsbury cookie logs and simply throw them in the oven, or make a day of it and make 5 different desserts, this is such an easy way to do some good for the neighborhood. Inquire at your local food shelter, food bank, or donation service about possible sites and organizations to donate to for the holiday season. 
2. "Operation Christmas Child" / Angel Tree Gift Donation 
This is a beautiful way to give a child in need a bundle of holiday happiness. Have your children participate in either Operation Christmas Child or Angel Tree donations. These two programs consist of being paired to a child, compiling a box of gifts, letters, and other holiday paraphernalia, and sending it to a location to be delivered to that child for the holidays.
3. Visit a Nursing Home Residence
Your children and their friends can organize a day to do something special for the elderly in your local community. They can gather together to make holiday decorations, cards, sing holiday carols, or all of the above and more for nursing home residents. Call your local nursing home residence ahead of time to schedule your visit. 
4. Donate Clothing 
Donating clothing is always important, but especially during winter holidays when temperatures can dip very low. Take an afternoon to gather your kids' gently used clothing and take it to your community's local family shelter, refugee shelter, or charity thrift store. 
5. Organize a Hot Chocolate or Cider Stand 
This activity can be organized by multiple families and friends in your community! Have your children donate a weekend day to organize a hot chocolate or cider stand in your community plaza or shopping center. Children can take shifts selling warm cups of holiday beverages in exchange for a small donation. The group can decide on their charity of choice to donate their funds to. 
We hope that you have a very warm holiday season, filled with lots of giving back to your community. With volunteer projects, everyone involved benefits.