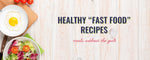 You know the feeling: it's midweek, and Sunday's leftovers are on their last leg. But it's nearing dinnertime already and your family is hungry. The panic! Fear not, today we're bringing you healthy and nutritious "fast food" recipes.
Avocado Toast Pizza:
Image and recipe by Krissy's Creation 
This recipe is a perfect fix for a quick breakfast or breakfast-for-dinner night. Packed with healthy fats from the avocado and protein from the egg, this delicious crispy avocado tortilla packs a nutritious punch! It's also very easy to make several at these at once. 
Image and recipe by Krissy's Creation 
Ingredients:
1 large tortilla

1/2 cup shredded sharp cheddar cheese

1 avocado, mashed

1 tbsp of olive oil or butter

Salt and pepper to taste
Instructions:
Preheat your oven to 350F

Place the tortilla on a baking sheet and sprinkle the shredded cheese on top. Place the cheese-tortilla pizza in the oven and bake until the tortilla is crispy and brown around the edges and the cheese is melted (about 10-12 mins)

While the tortilla is baking, fry your egg in a pan.

Once the tortilla is ready, take it out of the oven and top with the prepared mashed avocado. Sprinkle with salt and pepper.

Top the avocado with the fried egg. 
Easy 10-minute Veggie Fried Rice
Image and recipe from Pinch of Yum
This easy fried rice is the perfect leftover jumble: works best with leftover day-old rice and is perfect any leftover veggies or frozen ones in your freezer. All comes together to make a delicious and healthy meal-and this recipe makes enough to feed an army!
Image and recipe from Pinch of Yum
Ingredients:
2 tablespoons of sesame oil

1 1-inch piece of grated fresh ginger (or ginger paste)

2 cloves of garlic

3 eggs

4 cups of leftover rice (cold rice works best!)

1-2 cups of frozen peas

1 cup of corn

1/2 tablespoons of rice vinegar

Green onion, fresh basil, any other leftovers or fresh herbs you want to throw in!
Instructions: 
Heat 1 tbsp of sesame pol in a large pan or skillet over medium heat. Add the garlic cloves and ginger and sauté for one minute. Crack the eggs directly into the pan and gently push them around the pan for 1-2 minutes until barely cooked

Add cold rice and break up in the pan for a few minutes-adding another tbsp of sesame oil and turning the heat up to med-high. The eggs should stick to the rice

Add frozen corn, peas, rice vinegar, and other veggie add-ins you desire along with the soy sauce and stir fry for another 2 mins. Remove from heat and stir in green onion and basil (plus any other fresh herbs you desire! Cilantro would be good here)