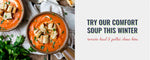 Nothing is more comforting than a warm bowl of soup on a winter day. This tomato soup is a classic-and the grilled cheese croutons make it fun (and delicious!) for kids and adults alike.
The best part is the soup itself is completely freezer friendly! It's so easy to make a huge batch and keep half in the freezer to be enjoyed at a later date.
Image and recipe inspiration by The Comfort of Cooking
Tomato Soup Ingredients
1 Tablespoon olive oil

1/2 a small red onion (or 2 shallots)

2 garlic cloves chopped finely

1/8 teaspoon crushed red pepper flakes (optional if your kids can't tolerate spice!)

1/2 teaspoon dried basil

Pinch of kosher

salt

and freshly cracked black pepper
1-1/4 cups low-sodium veggie or

chicken

broth

1 (28-ounce) can peeled tomatoes 

1 Tablespoon brown sugar (for depth of flavor!)

1 Tablespoon chopped

fresh

parsley/basil 

Grilled cheese croutons:
1 tablespoon of butter

4 slices of your bread of choice (sandwich or sourdough work best)

1 cup of shredded cheddar (jack, mozzarella and swiss work wonderfully too!)
Directions:
In a medium pot set to medium heat, add olive oil. Once hot, add chopped onion, garlic, red pepper flakes, basil, salt and pepper. Sauté and stir to keep it moving until onions are soft and translucent (about 3-6 mins). Add in broth, tomatoes and brown sugar and stir.
Cover pot and bring to a boil. Reduce heat to low and simmer until the tomatoes are soft and can be mashed with a fork, about 30 minutes.
Puree with an immersion blender, or add mixture to a food processor or blender, and puree in batches if needed. Once you've reached your desired texture, return to pot and you're ready to serve!
For the croutons
Set a grill pan to medium-high heat. Spread the butter on 1 side of each bread slice. Divide the cheese between two slices of the bread and top with the other two slices.
Add sandwich to pan and grill until dark griddle lines appear (about 3-5 minutes) and the cheese melts, then turn over and repeat.
Ladle soup into serving bowls and top with grilled cheese croutons. Sprinkle with chopped parsley or basil.
Enjoy!
Banner image courtesy of Simply Stacie