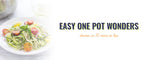 We're sure dinnertime can get pretty hectic in your house. Your kids are tired and hungry after a long day of school and activities, and you're just getting home and trying to juggle cleaning, finishing up emails and projects, and getting dinner on the table. How about making the last part just a bit easier? We have some great, one-pot recipes for dinner that are healthy, quick and easy to prepare, and will leave you and your family with happy tummies. Oh, and don't forget the easy clean-up of just one pot!
Pan-Fried Gnocchi with Sun Dried Tomatoes and White Beans
This recipe is vegetarian, and, come on, who doesn't love the texture of gnocchi pasta? 
Ingredients 
One package of gnocchi
1-2 tablespoons olive oil
Salt and pepper (to taste)
¼-1/2 teaspoon hot red pepper flakes
2 cups mushrooms, sliced
⅓ cup sundried tomatoes, diced
4 cups loosely packed spinach
540mL/19 oz white beans, drained and rinsed
Parmesan cheese
Directions
Heat oil in a medium pan over medium heat.
Add the gnocchi and separate them. Sprinkle with salt and pepper and red pepper flakes, and cook, stirring occasionally for 8-10 minutes, or until golden and slightly crispy.
Remove from pan.
Add the mushrooms, and cook for 3 or so minutes until soft (add additional olive oil if needed). Return the gnocchi to the pan and add the sundried tomatoes, spinach and white beans. Stir until spinach is wilted and everything is heated through.
Add additional salt, pepper and red pepper flakes to taste.
Serve with freshly grated Parmesan cheese.
Recipe from: Sweet Peas and Saffron
Pesto, Chicken and Veggies Recipe 
As colourful as it is delicious, try this amazing recipe that is full of veggies and protein! 
Ingredients 
2 tablespoons olive oil
1 pound chicken thighs, boneless and skinless, sliced into strips
1/3 cup sun-dried tomatoes, drained of oil, chopped
1 pound asparagus, ends trimmed, cut in half, if large
1/4 cup basil pesto
1 cup cherry tomatoes, yellow and red, halved
Directions 
Heat a large skillet on medium heat, add 2 tablespoons olive oil, add sliced chicken thighs, season chicken generously with salt, add half of chopped sun-dried tomatoes - and cook everything on medium heat for 5-10 minutes, flipping a couple of times, until the chicken is completely cooked through. Remove the chicken and sun-dried from the skillet, leaving oil in.
Add asparagus (ends trimmed), seasoned generously with salt, remaining half of sun-dried tomatoes, and cook on medium heat for 5-10 minutes until the asparagus cooked through. Remove asparagus to serving plate.
Add chicken back to the skillet, add pesto, stir to coat on low-medium heat until chicken is reheated, 1 or 2 minutes. Remove from heat. Add halved cherry tomatoes, mix with the pesto and the chicken. Add chicken and tomatoes to the serving plate with asparagus.
Recipe from: Julia's Album 
Zucchini Pasta
Zucchini pasta is a great healthy alternative to actual pasta. Enjoy this nutrient-packed, completely gluten-free and vegan dish on a busy summer evening.
Ingredients
2 pounds zucchini (approx. 4-5 large zucchini), spiralized

1 pint cherry tomatoes, halved

1 large red onion (or two small), thinly sliced

4 garlic cloves, minced

1/4 cup extra virgin olive oil

1/2 cup fresh basil

salt & pepper to taste

1/2 teaspoon crushed red pepper (optional)

shredded parmesan for topping (optional)
Directions 
Warm the olive oil in a large pot over low to medium heat. Add the onion and garlic and cook for 3 minutes, until fragrant.

Add the zucchini noodles to the pot and season them with salt & pepper. Cover the pot with a lid and allow to cook for 2 minutes, stirring halfway through.

Add the tomatoes to the pot and continue to cook for another 3-4 minutes, stirring every 30 seconds or so. Tongs may also be a good option to grab and stir.

Add the fresh basil, crushed red pepper (if using), and parmesan cheese (optional) to the pot then stir together. Divide the pasta onto separate plates and garnish with fresh basil. Serve warm and enjoy!
Lemon Herb Chicken and Rice 
Last but definitely not least, try this irresistibly fresh chicken and rice dish. The lemon adds a little zing, while the butter blends all of the flavours together to make one delicious dinner. 
Ingredients 
4 boneless skinless chicken breasts

2 tablespoons butter

salt and pepper to taste

2 teaspoons Italian seasoning
1 cup uncooked white rice

2¼ cups chicken broth (I used low sodium)

juice of 1 lemon

1 teaspoon Italian seasoning
Directions
Melt butter over medium heat in a large skillet or pan (one that has a lid). Season chicken with salt and pepper to taste, and Italian seasoning. Brown chicken in the butter for 1-2 minutes on each side. (Chicken shouldn't be cooked through at this point) Transfer chicken to a plate.

Add rice, chicken broth, lemon juice, and remaining Italian seasoning to the pan (no need to clean it first). Place chicken on top, then cover and simmer over medium-low heat for 20-25 minutes until liquid is dissolved.

Garnish with fresh parsley or cilantro if desired and lemon wedges for squeezing. Serve immediately.
Recipe by: La creme de la Crumb 
We hope you like these easy and yummy dinner fixes! Enjoy!