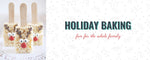 Happy holiday season everyone! Menorahs will be lit, Christmas trees trimmed with lights and ornaments, and overall cheer will be at an all-time high. With all of the holiday celebrations soon to be in full swing, there is bound to be some baking in the house. We are here to make your life easier (a even a little more fun) with quick and creative treats to bake with your kids for each and every party the season throws your way! 
1. Melted Snowmen Oreo Balls
Ingredients
1 

pkg.

 

(8 oz.) brick cream cheese, softened

36 

OREO Cookies

 

(regular size), finely crushed

16 

oz

 

. vanilla candy coating

 

, melted (like Candiquick or almond bark)

48 

Mini OREO Bite Size Cookies

decorations: decorating icing or gel; multi-colored sprinkles
Directions 
Mix cream cheese and cookie crumbs until well blended. I like to crush the Oreos in a food processor and then add the cream cheese and process it together. It can also be done by hand though.

Shape into 48 (1-inch) balls; place in single layer in shallow pan. Some readers have stuck toothpicks in the top before freezing for easier dipping later. Freeze for at least 20 minutes. They can be frozen for longer. Dip balls in melted coating (see note); I do this by using a fork and tapping the fork on the bowl of my candy coating to remove some of the extra coating. If you used the toothpick option dip balls and then gently remove the toothpick and fill in the hole with melted candy coating. Place in shallow waxed paper-lined pan, allowing excess coating to pool at bottom of each ball.

Chill balls until coating is set.

Decorate with remaining ingredients as shown in photo. You can use the candy coating to adhere the hat to the head. Place in the fridge immediately to set up the decorations.

Refrigerate 1 hour or until firm. Keep refrigerated.
2. Santa Hat Cheesecake Bites
Ingredients 
18

 

Oreos finely crushed to about 1 3/4 cups

2 1/2

 

Tbsp

 

butter

 

, melted and divided

2

 

(8 oz) pkg cream cheese, softened

1/4

 

cup

 

+ 2 Tbsp granulated sugar

2

 

large eggs

1/2

 

tsp

 

vanilla extract

1 1/3

 

cups

 

white chocolate chips

1/2

 

cup

 

+ 1/3 cup heavy cream

 

, divided

25

 

fairly small

 

, fresh strawberries (or more if cutting more squares)

2

 

Tbsp

 

powdered sugar
Directions
Preheat oven to 325 degrees. Line an 8 by 8-inch baking dish with two large sheets of tinfoil (one going horizontally and one over the top of the other vertically. Make sure your sheets are long enough that you'll have an overhang of foil over the edges of the pan. Also, be sure to mold it well to the pan). Brush foil with 1/2 tbsp melted butter. In a mixing bowl, using a fork blend together crushed Oreos and 2 Tbsp melted butter until mixture is well combined and evenly moistened. Press mixture firmly into the bottom of the prepared baking dish (the bottom of a flat measuring cup or glass works well for pressing crust), set aside.

In a large mixing bowl, using an electric hand mixer set on medium-low speed, blend together cream cheese and granulated sugar until mixture is smooth, about 30 seconds. Add in eggs and vanilla extract and mix until well blended. In a separate microwave safe bowl, heat white chocolate chips with 1/3 cup heavy cream on 50% power in 30 second intervals, stirring after each interval until melted and smooth. Pour melted white chocolate mixture into cream cheese mixture and blend on low speed until combined. Tap bowl against counter top about 30 times to release some of the air bubbles then pour mixture over prepared crust in baking dish.

Bake in preheated oven for 40 minutes then turn oven off and without opening oven door allow cheesecake to rest in warm oven for 15 minutes. Remove from oven and let rest at room temperature for 30 minutes, then cover with plastic wrap and freeze for 3 hours or refrigerate for 6 hours.

Once cheesecake is fully chilled and set, remove from freezer or refrigerator and lift cheesecake out of pan using the foil overhang. Cut cheesecake into squares (I'd recommend cutting them just a bit larger the the width of your strawberries. Also it's nice to keep some clean paper towels close by to clean your knife while cutting squares).

In a mixing bowl, using an electric hand mixer set on high speed, whip remaining 1/2 cup heavy cream until soft peaks form, then add powdered sugar and mix until stiff peaks form.

To assemble: cut a flat top off of each strawberry and lay flat side down over top of cheesecake. Fill a pastry bag (or Ziploc bag and cut a small tip of corner) with sweetened whipped cream and pipe around strawberry then finish with a small amount over the top of the "hat". Serve immediately (for do ahead- you can make cheesecake the day before then assemble within an hour of serving the following day). Store in refrigerator in an airtight container.
 Taken and Modified from: Cooking Classy
3. Reindeer Rice Krispie Treats
Ingredients
Premade Rice Krispies Treats / (or of course you could make your own)
Candy Eyeballs
Red M&Ms (or other red candy)
Dark Cocoa Candy Melts
Craft Spoons (or just regular popsicle sticks)
Directions
Unwrap your Rice Krispies Treats and carefully push your craft spoons into the treats.
Melt your chocolate following the instructions on the package and then spoon it into a plastic baggie.
Cut a small hole in the corner of your bag and you'll be ready to make the antlers.
Also use a small dot of chocolate under the candy eyes and m&m nose to attach them to the Rice Krispies Treat.
 Taken and Modified: Eighteen 25
4. Hannukkah Sugar Cookies 
What you'll need...
2 cups

 

sugar

1 1/2 cups (3 sticks)

 

unsalted butter, room temperature

4 eggs

 

room temperature

3/4 tsp

 

almond extract

3/4 tsp

 

vanilla extract

5 cups

 

all purpose flour

2 tsp

 

baking powder

1 tsp

 

salt

Star of David, Dreidel, Menorah Cookie Cutters
Directions 
Slice the butter into tablespoon-sized pieces and put them in a large mixing bowl. Then add sugar.
Cream together the butter and sugar for a few minutes till the sugar is fully incorporated and mixture is fluffy.
Beat in the eggs, almond extract and vanilla extract with an electric mixer till creamy.
Stir in the flour, baking powder and salt with a wooden spoon or spatula till a sugary dough forms. Cover the dough with plastic wrap and chill for at least 1 hour, up to overnight.
Preheat oven to 400 degrees F. Flour a rolling surface generously. Place a quarter of the cookie dough in the flour, then flip it and coat the opposite side with flour.
Re-flour the surface below the dough and begin rolling it out with a lightly floured rolling pin. You want to roll the dough ¼ inch to ½ inch thick. ¼ inch will produce thinner, crisper cookies and more cookies; ½ inch will produce fewer cookies with a softer texture.
Flip the dough once halfway through rolling, and keep the surface floured as you roll. The dough is quite sticky; keeping the surface and rolling pin floured will produce smoother results.
When dough is at the desired thickness, use cookie cutters to cut shapes in the dough.
Pull the excess dough trimmings from the cookies and reserve.
Bake the cookies in batches for 6-8 minutes per batch till they just start to turn golden at the edges. Remove from the oven and allow to cool.
Ice and decorate as desired.
Taken and Modified from: Tori Avey 
5. Peanut Butter Celery Reindeer Sticks
Ingredients
5 celery ribs, ends trimmed and cut in half
peanut butter (or seed butter of choice)
20 gluten free pretzels, cut in half
20

 

homemade googly eyes 
10 fresh raspberries
Directions
Slather the nut or seed butter into the celery ribs.
Add the antlers, eyes, and nose for the full Rudolph face.
Watch your kids eat and devour this snack!
Taken and Modified from: Fork and Beans
 Enjoy, and happy holiday baking!