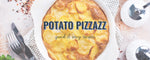 Fact: everyone love potatoes. It is a family favourite side dish. Why not add some additional recipes to your book to wow your family and guests at your next social gathering? These 3 recipes are sure to impress, especially with the holidays right around the corner.
1. Garlic Butter Potatoes 
What you'll need...
1 1/2 lb. new or small potatoes
1/4 c. butter, melted
1/4 c. extra-virgin olive oil
3 cloves garlic, minced
kosher salt
Freshly ground black pepper
1 c. shredded mozzarella
1/2 c. freshly grated Parmesan
1/4 c. finely chopped parsley
Directions
Preheat oven to 375° and line a large baking sheet with parchment paper.
Make small slits in each potato, like an accordion, making sure not to cut all the way through. Place potatoes on a large sheet pan.
In a small bowl, whisk together melted butter, olive oil and garlic. Brush mixture over potatoes then season with salt and pepper. Bake for 20 minutes, until the slits are starting to separate and the potatoes are beginning to turn golden.
Brush the potatoes with more of the melted butter mixture then sprinkle mozzarella and Parmesan on top. Bake for another 23 to 25 minutes, or until the potatoes are crispy on the outside and tender on the inside.
Garnish with parsley and serve warm.
Taken and Modified from:
Delish
2. Classic Potato Gratin
Need we say more? Potato Gratin is always a good idea. Try this extra creamy and flavourful recipe for a chilly night in with your family or friends. 
What You'll Need....
5 garlic cloves, divided

1 tablespoon unsalted butter, room temperature

2 medium shallots, quartered through root ends

2½ cups heavy cream

1 tablespoon kosher salt

1 teaspoon freshly ground black pepper

1 tablespoon thyme leaves, plus more

4 pounds russet potatoes, scrubbed, very thinly sliced on a mandoline

3 ounces Gruyère, finely grated

1 ounce Parmesan, finely grated
Directions
Preheat oven to 325°.
Cut 1 garlic clove in half and rub the inside of a 3-qt. shallow baking dish with cut sides.
Smear butter all over inside of dish. Bring shallots, cream, salt, pepper, 1 Tbsp. thyme, and remaining 4 garlic cloves to a simmer in a small saucepan over low heat; cook until shallots and garlic are very soft, 15–20 minutes. Let cool slightly. Transfer to a blender; blend until smooth.
Arrange potato slices in prepared dish, fanning out a handful at a time and placing in dish at an angle (this ensures every scoop will have tender potatoes from the bottom and crisp edges from the top).
Shingle as you work until bottom of dish is covered. Tuck smaller slices into any gaps to fill.
Pour cream mixture over potatoes and cover dish tightly with foil.
Bake potatoes until tender and creamy, 60–75 minutes. Let cool.
3. Twice-Baked Potatoes
The only thing better than baked potatoes? TWICE baked potatoes. This recipe is fool-proof and guaranteed to bring compliments back to the chef. Perfect to bring as a side dish for a holiday potluck party!
What you'll need...
4 large russet potatoes
2 tablespoons vegetable oil
½ cup sour cream
¼ cup unsalted butter
¼ cup finely chopped fresh chives
1 tablespoon finely chopped fresh tarragon (optional)
Kosher salt and freshly ground black peppers
Ingredients
Place a rack in middle of oven; preheat to 425°. Poke potatoes all over with a fork; rub with oil. Bake directly on oven rack until very soft when squeezed and skins are crisp, 50–60 minutes. Let cool just until you can hold them.
Using a serrated knife, slice potatoes in half lengthwise and scoop flesh into a medium bowl. Add sour cream, butter, chives, and tarragon (if desired); season generously with salt and pepper.Divide among 4 potato skin halves, piling gloriously high—don't pack too tightly. (And what about the leftover skins? We say add butter and salt and snack on them.)
Increase oven temperature to 450°. Bake potatoes on a rimmed baking sheet until filling is puffed and browned in spots, 20–25 minutes.
Enjoy!