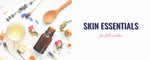 The air isn't as warm, moist and kind as it used to be in the Summer. It is thus much easier and much more likely for your skin to begin losing moisture and to experience all kinds of weather/related problems. Luckily, we have compiled some great tips to help you transition into this cooler weather and protect your skin!
1. Make the switch from lotion to cream
Trust us on this one. As the air gets drier, your skin will need a thicker layer of moisturizer to keep it supple and hydrated. Creams provide a great, oily layer that protects your skin from dry air that thinner, lighter lotions can't. 
Taken from: awomenshealth.com
2. Try using an oil based scrub
Fall is a time to rejuvenate and heal your skin from hours of summer sun damage. The best way to do this is to exfoliate, exfoliate, exfoliate to promote new skin cell growth. However, with colder weather comes drier air, so we advise using an exfoliating scrub that has an oily base. This way, you can scrub away old, dead skin cells while also keeping your new cells hydrated!
Taken from: liveabout.com
3. Invest in good cuticle oil
Dry cuticles? Not cute. No matter how beautiful your fall nail colour may be, dry flaky cuticles definitely ruin the look. That's why we suggest investing in a good cuticle oil to use as a preventative measure. For best results, apply the oil 2-3 days a week.
4. Circulate
Cold temperatures can constrict blood circulation in the skin, leaving it dull and pale. Make sure you activate your skin to keep it aglow! Use antioxidant-rich products (with peppermint, rosemary, or ginseng for example) like toner to promote circulation in your skin. 
Happy Pampering!