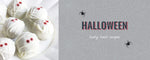 Using the same old tired Halloween treat recipes? Here are some quick, easy, and terribly spooky new recipe twists to prepare with your kids! 
1. Frankenstein Rice Krispie Treats
What You'll Need...
3

 

tablespoons

 

butter

10

 

ounces

marshmallows

6

 

cups

 

rice krispie cereal

10

 

drops yellow food coloring

10

 

drops blue food coloring

Melted Chocolate/Candy Coating

Candy Eyes
Instructions
Melt the butter in a large pot and add the marshmallows. Stir until they are all melted!
Add in the food coloring and stir until it turns green.
Add rice krispie cereal a little bit at a time and stir to combine.
Press rice krispie cereal into a buttered 9 x 13 pan. Press flat and let cool.
Let rice krispie treats sit for about 30 minutes.
Remove from pan and cut into squares.
Melt Chocoalte according the package directions. Dip the tops of the Rice Krispie Treats into the melted chocolate.
Lay on a sheet of wax paper (or a plate).
Use some of the melted chocolate and \"glue\" on the candy eyes.
Fill a ziplock bag with some of the melted chocolate, snip an end off and pipe a stitch mouth onto Frankenstein.
Let the Frankenstein Rice Krispie Treats sit for about 20 minutes undisturbed or until the chocolate had hardened.
2. Melted Witch Bark
What You'll Need...
Wilton Candy Melts (vibrant green)
½ cup mini chocolate chips (divided)
Pretzels Sticks
Mini Reese's Peanut Butter Cups
Halloween Oreos
Hershey's Hugs
Instructions
Begin by laying out parchment paper on a cookie sheet.
Get pretzels sticks, Reese's, Oreos, Hugs, mini chips out and ready so they are easy to grab.
Place 1 cup candy melts in a small pot and melt on low heat stirring constantly. Once all melted spoon out onto parchment paper and spread into a circle. We made ours about 4 inches in diameter.
Quickly add remaining mini chips to a small pot and melt on low heat stirring constantly. Spoon a tiny amount onto your green circles and use a toothpick to swirl around.
Add Oreos as hat in the corner. Add Hugs by dipping into excess melted chocolate and adding to the top of the Ore. Add mini chips for eyes.
Stick pretzels in your mini Reese's and place on the opposite side of the Oreo.
Let set until ready to eat or package.
3. Pumpkin Cheesecake Truffle Mummies
What You'll Need...
1½ cups gingersnap cookie crumbs
¼ cup canned pumpkin purée
⅓ cup graham cracker crumbs
3 tablespoons powdered sugar
¼ teaspoon ground cinnamon
⅛ teaspoon salt
3 ounces cream cheese, softened
½ cup white chocolate chips
white chocolate chips or white dipping chocolate (like CandiQuik)
red food coloring
Instructions
In a large bowl combine gingersnap crumbs, pumpkin puree, graham cracker crumbs, powdered sugar, cinnamon, salt, and cream cheese. Mix until smooth. Melt ½ cup white chocolate chips and mix into truffle mixture.
Cover and chill until dough is solid enough to roll into balls - about 1 hour in the fridge or 30 minutes in the freezer. When cold enough, roll mixture into 12-14 balls. Place a toothpick in each ball.
Melt remaining white chocolate chips or white dipping chocolate in a small bowl. Use toothpicks to dip each truffle ball into the white chocolate, being sure to coat all sides. Gently shake off excess chocolate. Place chocolate-covered truffle balls on a baking sheet or plate lined with wax paper, parchment paper, or foil. Chill for 3-5 minutes until chocolate hardens.
Drizzle more white chocolate over the truffles. Soak the end of a Q-tip in red food coloring. Dap 2 dots of food coloring to make the mummy eyes. Handle carefully so you don't wipe off the eyes. Store chilled in airtight container.
Taken and Modified from: La Creme de la Crumb
4. Frightful Fruit Kebabs
What you'll need...
Cantaloupe
Jumbo marshmallows 
Kiwi
Small wooden skewers
Melon baller
Black candy melts
Decorator icing eyes — optional 
Piping bag and #1 piping tip
Instructions
Using a melon baller tool, make round balls of cantaloupe. Cut the kiwis into squares of similar size.
Assemble the fruit kebabs onto the small wooden skewers — cantaloupe, marshmallow and kiwi. Put them in the refrigerator for an hour to chill.
Melt the black candy melts in the microwave until smooth. Pour into the piping bag with small, round piping tip. With a paper towel, dab off any moisture on the fronts of the fruit kebabs. Pipe black candy melt faces on the fronts of the cantaloupe pumpkins, marshmallow ghosts and Frankenstein kiwis. If using icing eyes on the Frankenstein kiwis, apply a tiny dot of candy melt to the kiwi before adding the eyes.
Arrange the kebabs on a tray or plate, and chill them for an hour before serving. These are best if served within 24 hours of preparation.
Taken and Modified from: She Knows
Enjoy!