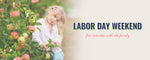 Ah, Labour Day Weekend. It is seen as the final, stress-free family weekend of summer before school starts up again for the kids. This year, why not kick the festivities up a notch? We have four great ideas for you and your family to make this Labour Day Weekend one for the books!
Backyard Camping
This is a great way to get the camping experience without a long drive cramped in the car next to the dusty hurricane lamps and portable stovetop that have been sitting in the garage for a few months. Get the whole family to help set up camp in the backyard, and spend an unforgettable night under the stars telling ghost stories and eating s'mores.
Potluck Barbecue
Barbecues are a staple Labour Day Weekend family activity. This year, invite some family friends to join in on the fun! Ask each family to bring a dish/beverage, and in no time you'll have tables full of delicious sides and drinks to complement your burgers, dogs, and skewers!
Taken and Modified from: U.S. News
Check out your Local Area Park
Take advantage of last bits of sweet summer heat by taking some time to explore your nearby area parks or national parks! Choose the trails as a family, pack some sandwiches, snacks, and drinks, and get trekking!
Enjoy your Town's Labour Day Festival
If you are lucky, your town will be putting together a Labour Day festival full of fun activities to enjoy with your kids! Check to see if they have face-painting, a parade put on by your local high school's band, dunk tanks, and more. Also be sure to grab a nice spot for evening fireworks if they are being organized.
Taken and Modified from:
Hydawaybottle.com
Enjoy this fun weekend with your family, and don't forget to wear lots of sunscreen!