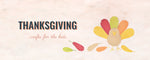 Thanksgiving is just around the corner, and that means family and friends are about to take over your home for dinner, football, parades, and leftovers. In preparation for all of this wonderful mayhem, you may be searching for some fun ways to keep your kids out of the way of the pies in the oven, cranberry sauce mixing, and potato mashing. We have some great crafts to keep your kids entertained during the Thanksgiving day kitchen chaos. 
1. Handprint Turkey Hat 
What You'll Need...
Brown, white, orange, yellow, and red paper
Glue/Tape/Stapler
Black marker
Instructions
Cut two wide strips of brown paper and measure your child's head.
Tape or staple it together and cut out two white circle eyes.
Trace your child's handprint on three different colored papers, then cut them out.
Make a turkey head figure with the brown paper and have the kids glue some eyes and a beak to it.
Glue the handprints behind the head and glue or tape the whole thing onto the headband.
Cut out two strips for the turkey's feet and tape them on the inside. Gobble gobble!
2. Corn Wreath
What You'll Need...
White and green construction paper
Yellow, orange, red and brown paper
Paint (colors appropriate for harvest corn)
Bubble wrap
Twine
Instructions
Paint the construction paper using pieces of bubble wrap. It gives the look of the individual kernels on a corn cob.
After the Construction paper dries, cut out corn shapes and add some green construction paper to make the corn husks.
Use a piece of cardboard for the form of the wreath and glue on the the corn.
Add a piece of twine to hang the wreath from. 
3. Gratitude Tree
What You'll Need...
Craft paper
String
A handful of twigs/tree branches
Pen or Marker
Small rocks
Instructions
Take a cut out of the craft paper in the leaf shape.
Use the craft leaf as a template for tracing the rest of the leaves on a bigger sheet.
Punch holes in the leaves tie a piece of string in the holes.
Add rocks to the base of the vase and stick the tree branch there so that it stands erect.
Ask your kids to draw or write about things that they are thankful for. If they are too young, you can write for them.
Tie the leaves on the tree branches .
4. Turkey Napkin Holders
What You'll Need...
TP Rolls (1/2 a roll per place setting)
Spray paint to paint TP Roll if desired.
4 colors of felt
Googly Eyes
Thick Ric Rac
Hot Glue Gun
Instructions
Cut a standard toilet paper roll in half.
Spray paint your two pieces if desired (I used my copper spray paint because I'm slightly obsessed with it, but you could totally leave the roll unpainted).
Using four colors of felt, cut individual feather shape out (I drew a stencil freehand on a piece of thin cardboard, and then traced that onto each piece of felt).
Hot glue the feathers onto the TP Roll.
Glue on the eyes.
Cut a triangle out of orange felt for beak (again … freehand), and glue onto roll.
I used a piece of thick Ric Rac cut into the shape of a snood and glued that on.

Roll up napkin and stick it inside!

 
Taken and Modified from: View from the Fridge
Hope you all found these fun and simple. Happy Thanksgiving! Gobble Gobble!