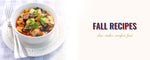 Everybody loves an easy and delicious slow-cooker meal. The steady drop in temperature as we get closer to fall makes these three recipes even more appetizing.
Loaded Slow-Cooker Potatoes
Ingredients
Cooking spray
Baby potatoes, halved and quartered if large
3 Cups shredded cheddar
2 Cloves garlic, thinly sliced
8 Slices bacon, cooked
¼ Cup sliced green onions (plus more for garnish)
1 Tbsp. paprika
Kosher salt
Freshly ground black pepper
Sour cream, drizzling
Directions
 Directions
Line a slow cooker with foil and spray with cooking spray. Add half the potatoes, 1 1/4 cups cheese, half the garlic, 1/3 of the cooked bacon, half the green onions, and half the paprika. Season with salt and pepper. Repeat.
Cover and cook on high until potatoes are tender, 5 to 6 hours. (The bigger your potatoes, the longer they'll need.) About 20 to 30 minutes before serving, top with remaining cheese and bacon (this is your moment to make the potatoes look pretty!).
Garnish with more green onions, drizzle with sour cream, and serve.
Slow-Cooker Sweet Potato Chili
Ingredients
28 ounce (796 ml) can diced tomatoes
23 ounce (680 ml) can tomato sauce
1 tsp chili powder
1 tsp cayenne pepper
1 tablespoon ground cumin
2 teaspoons paprika
1 tablespoon brown sugar
1/2 teaspoon salt
2 large sweet potatoes, peeled and chopped into 1" pieces
1 medium onion, coarsely chopped
2 cloves garlic, minced
2 15 oz cans kidney beans, drained; or 3 cups cooked kidney beans (start with 1.5 c dry beans, soak overnight)
1 cup corn, frozen and thawed
1 lb ground beef sirloin (optional)
1 cup chicken broth
 Directions
If using cooked beans, soak 1.5 cups kidney beans overnight, rinse and pre-cook while preparing the rest of the chili.
Roast the corn until most pieces have a dark/charred corner, either in your slow cooker,

 

if it has that function, or on the stove top. A dry pan or pot works best. Set aside corn and brown the meat (in slow cooker or on stove stop).
Combine all ingredients in the base of your slow cooker and stir to mix well. Cook on low for 8 hours
Burgundy Beef Stew
Ingredients
Boneless beef chuck pot roast
½ Tsp salt
¼ Tsp ground black pepper
2 Tbsp cooking oil (optional)
2 Tbsp quick-cooking tapioca
6 Medium carrots, cut into 1-1/2-inch pieces
One 9-oz package frozen cut green beans
½ of a 16-oz package frozen small whole onions (2 cups)
2 garlic, minced
One 14-oz can reduced-sodium beef broth
1 Cup Burgundy wine (or Pinot Noir, depending on preference)
4 Slices bacon, crisp-cooked, drain, and crumbled
Directions
Trim fat from meat. Cut meat into 1-inch pieces. Sprinkle meat with salt and pepper. If desired, in a large skillet cook meat, half at a time, in hot oil over medium heat until brown. Drain off fat.
Place meat in a 3-1/2- or 4-quart slow cooker. Sprinkle with tapioca. Stir in carrots, green beans, onions, and garlic. Pour broth and Burgundy over meat mixture in cooker.
Cover and cook on low-heat setting for 10 to 12 hours or on high-heat setting for 5 to 6 hours. Sprinkle each serving with crumbled bacon. Makes 6 servings.
Time to get cooking! We hope you and your family enjoy these tasty recipes just as much as we do.