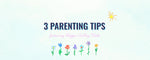 We recently collaborated with mommy blogger Ashley Blake and we asked her for her top 3 parenting tips for raising a toddler!


1. Stick to a schedule
"Although this isn't always possible, our days run so much smoother when Blake knows what's going to happen. On the days that we stray too much from our regular schedule, things like sleep get disrupted, leading to moodiness and sometimes tantrums!"
2. Be consistent
"When it comes to discipline, meal times, screen time, etc., the same rules always apply. This way Blake knows what to expect. It's also important that both parents are consistent and stay on the same page so that he knows he'll get the same answer from both of us."
3. Let the little things go
"My husband and I are both "neat freaks" and it can be hard for us to let the house be messy. But with a 2 year old, sometimes you just have to let it go. Is it really a big deal if the living room is full of toys? No. We can wait until nap time or bed time and then clean them up. Just knowing that little messes are part of having a toddler, eases our anxiety about having a messy house. It's just what kids do!"