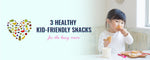 With winter comes the need for indoor activities for your kids...so we've put together a list of 3 easy and healthy recipes for you and your littles ones!
Peanut Butter Maple No Bake Granola Bars
These yummy and easy no-bake bars are the perfect healthy make-ahead snack! So easy to make on a Sunday afternoon and then throw in the fridge to grab through out the week for an on-the-go treat. We love these bars with chocolate chips and chia seeds!
Ingredients
2 2/3 cups old fashioned rolled oats

3/4 cup creamy peanut butter

Generous 1/2 cup maple syrup 

Generous pinch of salt

Optional (but yummy!) add-ons: raisins, flaxseeds, mini chocolate chips
Instructions
Place peanut butter and maple syrup in a large microwave safe bowl. Microwave in 10 second increments until the peanut butter and maple syrup can be easily combined, but are not hot (this took me 30 seconds). Stir well.

Add oats and salt and stir until well combined. Don't be afraid to use your hands!

Dump into a parchment lined 8x8 baking dish and press down and flatten into an even layer. Cover and refrigerate until firm. Slice into bars or squares.
Easy Healthy 4-Ingredient Banana Ice Cream
Image and recipe inspiration courtesy of mylifeandkids.com
Nothing makes kids more excited than ice cream-and with this simple recipe homemade ice cream has never been easier or healthier! This clean and simple list of ingredients makes the creamiest customizable dessert that can be whipped up in about a minute. 
Ingredients:
4 large, very ripe bananas (you want bananas with spots on the peel) - peeled, cut into small pieces and then frozen

½ teaspoon cinnamon

½ teaspoon pure vanilla extract

Pinch of sea salt

Any kind of toppings you want! We love this with fresh fruit, peanut butter, or chocolate chips. 
Instructions:
Let bananas soften at room temperature for about five minutes.

Whirl bananas, cinnamon, vanilla and salt in a blender until smooth and creamy. This may take a while-especially without a high-powered blender. Scrape down sides with a spatula so everything is combined

Pour into bowl, mix in favorite ingredients and serve immediately. Or for a fun make-ahead dessert - add to your favorite popsicle molds and freeze for later!
All-Natural Raw Apple "Cookies"
So this is definitely a stretch on the word "cookie". However, regardless of terminology, these apple cookies are delicious and crisp and so easy to make with your kids!
We love these with almond butter, white chocolate chips, and coconut shavings. So delicious and customizable!