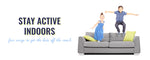 March is always a funny month: so close to Spring yet still so far! Here are some indoor activities that will get your kids away from their screens and allow them to play and let their imagination run wild when it's still cold out
Color Walk
Have your little one spread sheets of colored paper or mismatched hand towels in a path all throughout your house. To keep him or her from slipping, just tape down the towels or paper with painters or masking tape (these won't ruin your floors!). Tell your child to keep the colors separate so there aren't 3 sheets of green paper in a row. 
Once they're done setting up: the game is on! Can she walk from one end of the room to the other only stepping on blue squares? Can she make it only stepping on red and green? Can she do it with one foot or on all fours?
Balloon Volleyball
This game works just as well for your kid to play alone if you're busy or need a break! Just blow up a balloon, set up a chair as the center line, and have your little one run back and forth to hit the balloon before it lands on the ground. 
Monster Mirror
Have your two little monsters (aka kids) face each other and mirror each other's movements. The bigger the motions, the bigger the fun! Take monster stomps, or wash monstrous windows. Let out a big monster roar!