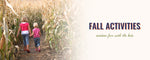 Let's face it – Summer is fading fast, and that means no more beaches and barbecues to entertain the family. But now, we get to cozy up in our burgundy sweaters, smell the crisp air, and drink Pumpkin Spice anything-and-everything!  There are also plenty of fun kid-friendly activities to take part in as a family. We've compiled a great starting list for you.
Colour Walk
The Colour Walk is an even more exciting version of a Nature Walk. During your walk, give your little ones a notebook and some coloured pencils or a digital camera, and have them identify items on the walk that are yellow, brown, red, green, orange, and everything in between. Fall is the perfect season to experience all colours of the spectrum! To make things even more fun, try pasting different coloured paper into an ice-cube tray or egg carton, and have your kiddos find something of the same colours that they can collect in each compartment.
Taken and Modified from: No Time for Flashcards
 Visit Your Local Farm
Your local farm is the perfect place to take your kids when fall comes around. Your kids can try their shot at picking out the largest pumpkin for jack-o-lantern carving, pet the barn animals, or take a fun hayride through the fields! After all the activities are over, hey can also scavenge around for sweet treats like candy apples to eat on the ride home.
Making a Leaf Labyrinth
Yes, you heard us, a leaf labyrinth. It's a great way to do two things at once: rake up the leaves that will inevitably fall into your yard, and play a fun game outside with your kids! Simply rake fallen leaves into any kind of labyrinth-like setup, and let your kids find their way out. Put a twist on older kids by timing each one. This activity helps kids develop fast-thinking and problem-solving skills as well.
Happy (almost) Fall!