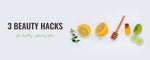 We all usually feel our best during the warm summer months. We get to shed the layers of turtlenecks, jackets, and long pants for flowing summer dresses, cute wedges, and an array gorgeous beach slips. And, who can forget about that wonderful feeling of transitioning from a translucent ghost to a radiant, bronzed summer goddess?! As exciting as the sun and warmth is, we also have to remember to take care of our bodies, and especially our skin. To prevent any skin woes this summer - whether that be excess oil and clogged pores from all the sweat, painful sunburn, or dryness - we have concocted a list of 3 easy DIY hacks to keep your skin healthy and glowing throughout the summer!
Sweet Watermelon Body and Face Serum
Goodbye, sun damage and sunburn discomfort! This amazing face serum is designed to provide ultra-hydration and heal skin that has been personally victimized by the sun. 
Ingredients
1 tbsp fresh watermelon juice
1 tbsp of raw honey
Directions
Mix the watermelon juice with honey until well combined
Apply to clean, sun damaged/burned areas in gentle circulation motions
Let the serum penetrate and heal for 20 minutes
Rinse areas with cool water
Strawberry Mask
You know what accompanies the heat? Sweat, and lots of it. That sweat can clog pores and lead to a lot of pesky skin troubles. This mask is awesome for all skin types because its ultra cleansing, and helps to minimize pores. It also exfoliates away dead skin while helping to lighten and brighten.
Ingredients
 1/4 cup mashed strawberries
3 tbsp yogurt
1 tbsp rice powder
Directions
Mix the ingredients together and apply
Leave on for 15-20 minutes
Rinse off with cool water
Cucumber, Rosewater and Glycerin Face Mist
Face mist is a summer beauty tool must. It's easy to drop in your beach bag, and is filled with refreshing, revitalizing properties that is guaranteed to keep your skin happy and dewy. The cucumber cools and soothes skin. The rose water acts as an astringent to reduce redness and irritation. Glycerin leaves skin soft and supple. 
Ingredients
3 tbsp fresh cucumber juice
3 tbsp rose water
1 tbsp glycerin 
Directions
Mix 3 tablespoons each of fresh cucumber juice and rose water and 1 tablespoon of glycerin in a bowl
Stir well and pour into an empty, travel sized spray bottle.
Shake it well and spray on face. Remove any excess mist with a cotton pad.
Now you can get out there and enjoy the sun with confidence!