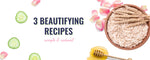 Winter can be so harsh on our skin and hair. Pair that with the non-stop parenting life, and it can be hard to remember to take care of ourselves too! While it's easier said than done for us to prioritize ourselves too, this list of 3 pampering recipes will make you feel refreshed and beautified-and they're a fun activity to do with the kids!
Finally- they can play with their food while you get the amazing benefits of these ingredients.
Natural Lavender Detangler
Image and recipe by Rubies and Radishes
This natural detangler works and smells amazing. It's completely kid friendly-and it doubles as a leave-in conditioner!
What you'll need:
2 ounce spray bottle

Small funnel
Ingredients:
1.5 teaspoons of Apple Cider Vinegar
5 drops of Lavender essential oil
Distilled water
Using the funnel, add the apple cider vinegar and lavender essential oil to the spray bottle. Allow to sit for 10 minutes.

Fill the rest of the bottle with the distilled water. Shake to emulsify the ingredients.

Use to when you brush your hair to get knots out, or spray the detangler all over freshly washed damp hair to use as a leave-in conditioner.
Oatmeal Face Mask:
This simple oatmeal mask is as easy to whip up as it is rejuvenating and soothing for the skin. We try to do this once a week (perfect for Sunday nights)!
Ingredients:
2 teaspoons of oatmeal

1 teaspoon of honey

2-3 teaspoons of milk
Method:
Mix the oatmeal and honey with the milk to get a paste

Apply on the face and leave it on for 15-20 minutes.

Rinse with water.
Cucumber-Rose Puffy Eyes Mask
Image and recipe by Hello Glow
Cucumbers are a super hydrating and soothing skin miracle, and rosewater is well-known to both tighten and purify the skin. This eye mask is super luxurious and refreshing-perfect for a quick pick me up! This recipe also includes a bit of craftiness- which is super fun to put together with your little ones!
Ingredients:
1/2 a cucumber

1 oz rose water

Blender

Cotton rounds
Directions:
Cut the cotton rounds into two half moon shapes. This mask makes quite a few pairs, so cut more than you need.
In a blender, puree the cucumber and the rose water until liquified. Pour mixture into a bowl, and soak the cotton rounds in the mixture. Squeeze out the excess and then soak again for optimal absorption. Store extra soaked cotton rounds in a Ziploc bag in the freezer for future use. 
To use, simply thaw the eye pads for about 10 minutes before you use them. To apply, place the half moon eye pad underneath the eye close to the bottom lashline. Leave on for 10-15 minutes.