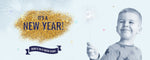 We love how start of a new year is a clean slate. Time to refresh after the craziness of the holidays and set new realistic parenting resolutions for 2017!
A common problem with resolutions is that we set our goals too high and find ourselves frustrated 3 weeks into the new year. How many times have we set a goal to work out 5 times a week only to give up mid-January? 
As parents, our lives have NEVER been busier. This is why setting small goals is instrumental because in time they become leeway to achieving bigger ones!
1. Spend more one-on-one time with each child
Spending just up to 10 minutes a day with your child helps foster better emotional connections and can make them more cooperative for the rest of the day! Parenting is go-go-go - however it benefits you and your children to carve out some one-on-one time. 
2. Unplug from your workday 
This resolution goes hand-in-hand with the first one. You owe it to yourself to take the night off and spend that time with your family. Instead of refreshing emails for 10 minutes-try spending that time with your child! It's nearly impossible to be fully present with your child when work is weighing you down in your home. A good office detox may also leave you refreshed and more energized for work the next day!
3. Have everyone eat dinner together at the table
Whether you have time to cook a meal or are reheating leftovers and whatever's in the freezer, getting the whole family together around the dinner table is a great routine to implement in the new year. No cell phones, no TV, no distractions as you catch each other up with your days while breaking bread!
4. Cook one meal for the whole family
Cooking for picky kids is a tricky business. We want to enjoy our leftovers but the kids want macaroni! While it may seem difficult - now is the time to expand their palates so when they grow older they'll appreciate the taste of healthy foods. 
5. Make time for yourself
It's only natural to always put our kids first-however in 2017 we should remember to take some time for ourselves. It's near impossible to be the best mother you can be without taking care of yourself too! Whether it's as simple as going to the grocery store alone to get some me-time or getting a sitter for a much-deserved date night - these routines will keep you from stretching yourself too thin.